Are you looking to sell your caravan?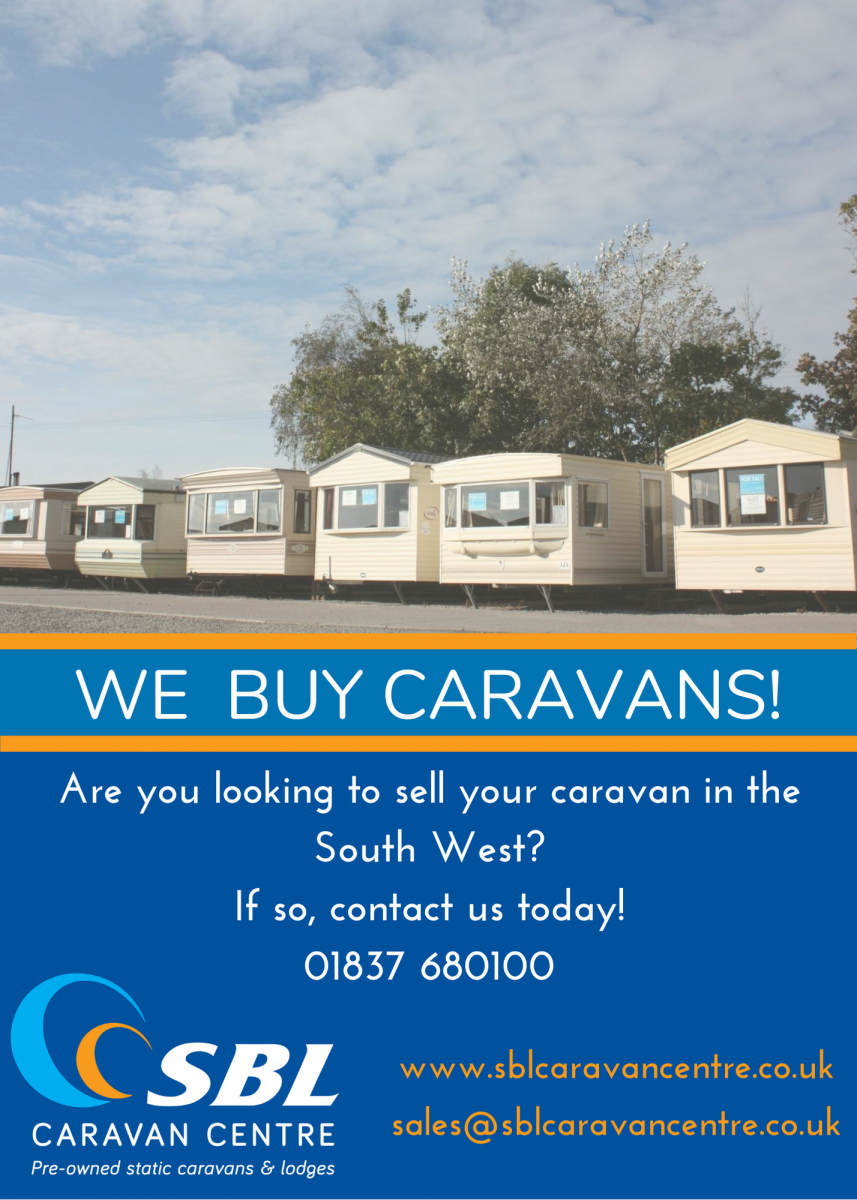 At SBL Caravan Centre, we are always looking for caravans to buy. We buy many makes, models and sizes.
If you need to sell your caravan, contact SBL Cavan Centre for a no obligation price. SBL Caravan Centre buys used second hand and pre-owned static caravans across the South West. If you are not located in the South West, it is still worth giving us a call as we may still be able to help.
At SBL Caravan Centre we sell the largest selection of pre-owned holiday homes in the South West, to suit a wide range of requirements, our stock is constantly changing and we are therefore always looking to purchase more.
If you are thinking of upgrading your holiday home, we can offer a part exchange option or if you simply have no use for it any more, we can take the hassle out of selling. If you want to sell your caravan on a park or off site, please do not hesitate to contact us for a no obligation quote.
If you have a holiday home on a holiday park and need to sell because your lease has expired, please contact us for a price. We buy used holiday homes from parks directly or through individual owners on a regular basis and will work with the park to organise the collection of your holiday home. SBL Caravan Centre also buy used holiday homes in bulk so if you are looking to sell several static caravans, we will offer you a no obligation quote for multiple purchases.
If your caravan is sited on private land, that is no problem at all! The process works in the same way, and we will even carry out an access check to ensure a safe collection. We will offer you a competitive price and organise collection, so you have absolutely nothing to do!
People choose to sell to us because we make the process as easy as possible. With a private sale, you will have to wait at the caravan on numerous occasions so the potential buyers can view. A potential buyer might have problems with access for the caravan which can delay the sale and possibly mean it ends up being cancelled – not an issue for us!
How to Sell Your Caravan
SBL Caravan Centre make the process of selling your caravan easy. All you must do is provide us with the make, model, size, age and bedrooms, as well as any additional specifications such as double glazing and central heating. You can call us on 01837 680100 or send us an enquiry and we will respond promptly with a guide purchase price for your pre-owned holiday home. If satisfactory, we will arrange a convenient time to inspect the caravan and will then confirm our offer. Payment would be made once the caravan arrives into stock with us, either by BACS or cheque – your choice!
Call us now on 01837 680100 for your free, no obligation valuation or send us an enquiry